Finding the right artwork for your living space can be a struggle. When inside an art gallery, one of the most common doubt in a buyer's mind is, "How do I pick the right art-piece?" Everyone can have a few guidelines, depending upon their experience to make sure they select the right piece for a specific space.
What you need is – a painting that can bring life to your walls or a sculpture, that you can't take your eyes off from. Artwork should be in sync with the personality of the homeowner and their space. It can be useful to try certain pieces together and create a character in a home or office. Artwork should be treated as an investment, which you can take with you as you move, and can even grow in value over time. Also one of the good things about art is that you can always find an art piece according to your budget. In this blog, I will try to demystify, and help the readers find the right kind of artwork for their places.
How to find the right art piece for the Living Room or the Lounging Room or Drawing Room?
The most fun room to embellish with art, and most times, the most intimidating one is the lounging room or living room or the drawing room. This is the place where you can experiment the most, with a vast variety of sculptures or paintings or digital art or metal installations.
Since this is the room most of your guests will see and spend time in, having this well decorated can be the most pressuring thing. Choosing the right art piece is elemental in provoking conversation and setting the feel or ambience of the space.
Best Practice Tip – For the walls You can opt for one large canvas. That can be coupled with small bronze sculptures.
How to find the right art piece for the Bedroom?
The bedroom may be a retreat, a place where you can peacefully relax and therefore artwork should reflect that. In our experience the best walls for art in the bedroom can be directly over the bed or on the wall opposite the bed.
Best Practice Tip – Large paintings with minimal frames / gallery frame or canvases are best suited for bedroom walls and should be hung at eye level.
Here, the focus should be on the art piece itself and not so much its vessel. You can look for contemporary art pieces with soothing colors or tones. Digital Art landscape pieces / photographs can also make a great choice.
How to find the right art piece for the Kitchen?
While picking artwork for your home, one of the most commonly overlooked rooms is the kitchen. The kitchen which in a Punjabi household is often referred to as the "heart of the home" and in many cases, foremost used room in the house. There is no doubt that art should be incorporated here. Some of the areas where we can showcase the artworks are the Countertops or spaces above cabinets. One
Best Practice Tip – To keep the art in the details, have an inclination toward smaller pieces that complement, not overwhelm, the space. You can pick funny or more social prints that make you smile, and make mornings & the tired evenings easier!
How to find the right artwork for the Bathroom?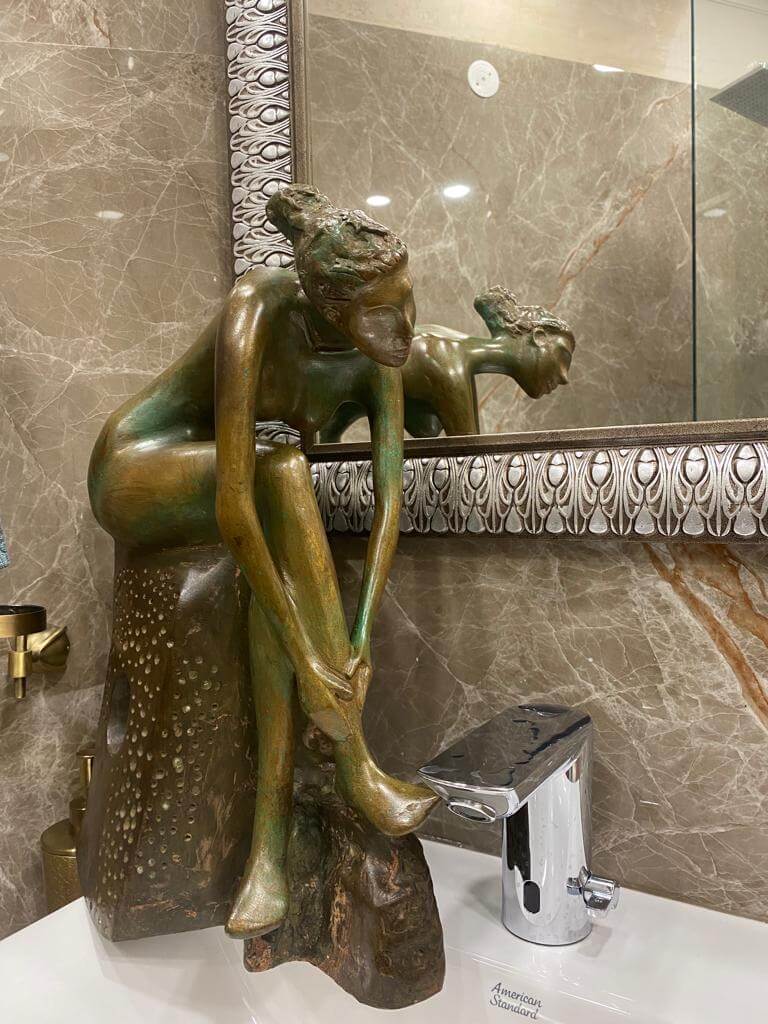 The bathroom is another room that often gets neglected when it comes to art. The artwork you choose has to be in sync with the vibe of the bathroom. For example, if it's a powder room on the main ground-floor, you may choose to stick to more fun and bright pieces.
Similarly for the master bath, one can go with more serene or calming pieces.
Best Practice Tip – Generally it has been seen that Bathroom art looks great in pairs, you can choose a set of two- either stacked or side by side.
Most common placement includes over the toilet, over the bathtub or over the hooks used to hang towels.
How to find the right contemporary art-piece for the Office?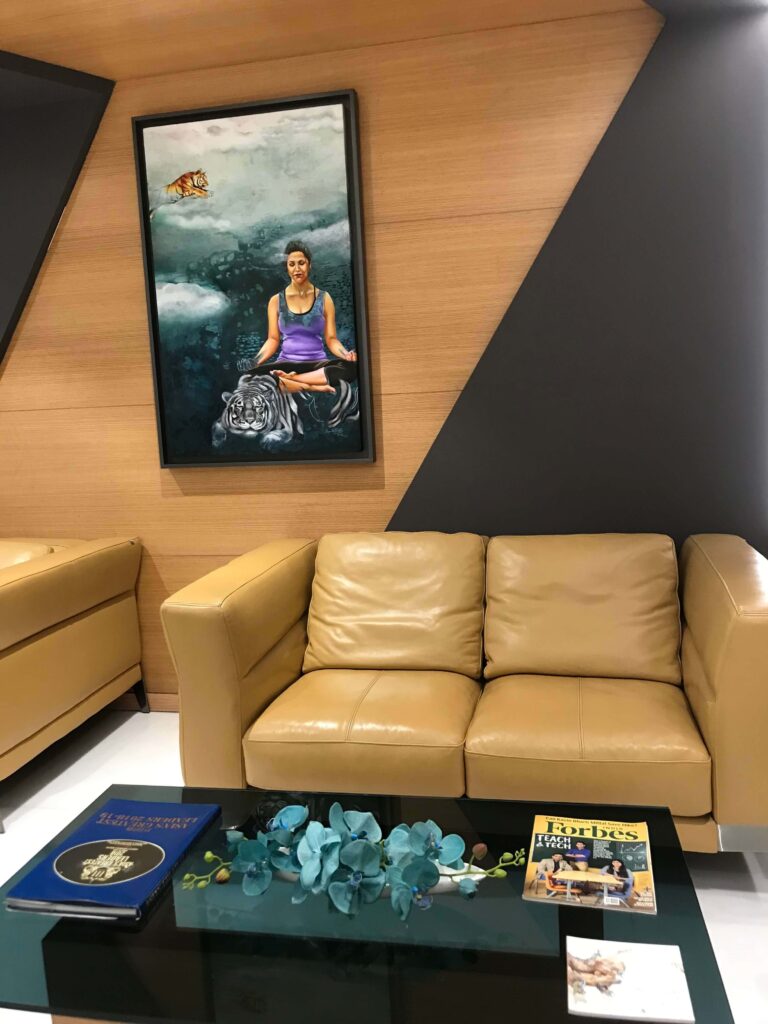 Doesn't matter if you work from home or are in an office, art may be a great way to personalize your space and keep you inspired. You can also avoid being monotonous by creating a rotating gallery. A floating ledge shelf is one of the easiest way to get this done. The best part of this is that it's the only thing you will have to hang!
Next is the most important part, of picking the right assortment of artwork that inspires you.
Best Practice Tip – You can envision a mood board for yourself and start working on it. To start with you can look for positive images or works by artists who inspire you.
Also don't forget to incorporate different sizes, big and small so the possibilities can be endless. Important thing is to decide upon is to have them all in similar frames for a minimalist look or all different frames to add some character. These pieces can be rotated or updated whenever you get bored since they are not fixed with nails or screws.
How to find the right art piece for the Garden/ Drive way to your Main door?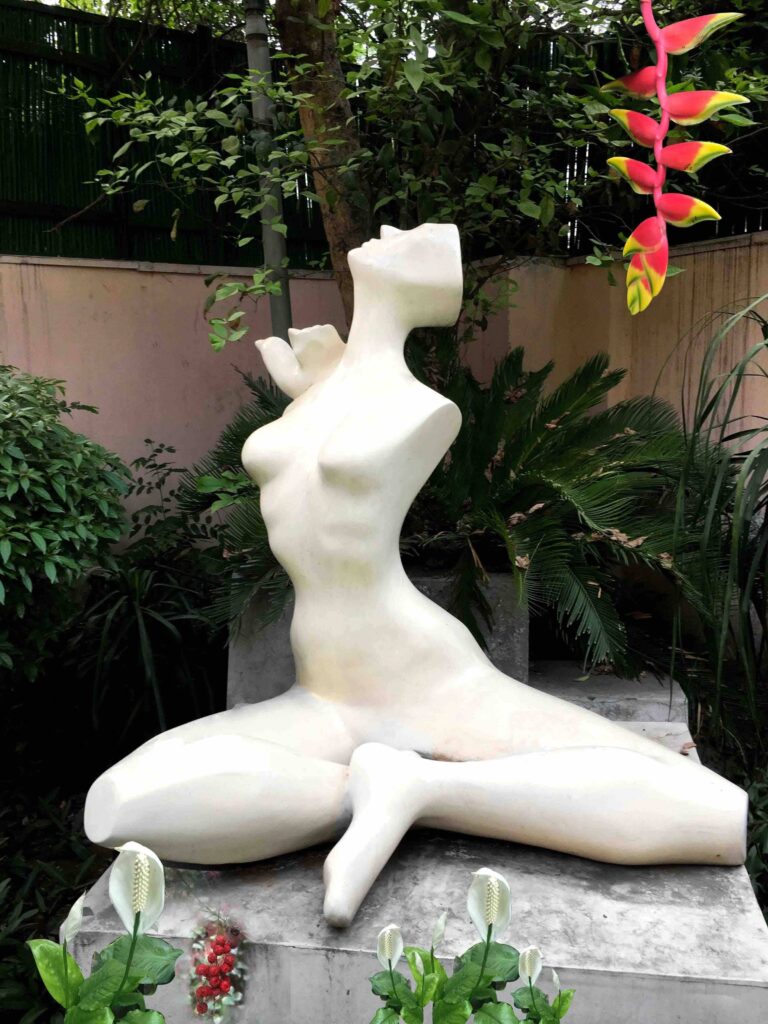 Best Practice Tip – There is one general thumb rule when it comes to the art for outside area – It should be big enough to be noticed, should be subtle enough to blend in or complement with the surroundings. Use of large size fiberglass sculptures can be a good option for gardens. Metal Installations on the drive way walls bring life to otherwise dull walls.
Art has been evolving since time immemorial. Various artists try to express their thoughts and feelings through their art. Art – That makes our homes and offices colorful! Art – That helps us validate and recognize our emotions!
Find the best of contemporary art in the form of Oil Paintings, Sculptures, Digital Art or Metal Installations at www.renukathedesignsers.com.
Still Confused & can't decide ? Book a free Art Audit at Renuka the Designers and let Renuka and her team help you decide and advise what's best for your walls!